This article will guide you through the process to self-nominate for an individual, team, group, or workplace award.
How do I register for an ALLY account?
If you do not have an ALLY account, please follow the instruction in the video to walk you through the process of creating one. You will need this account to login to nominate.
How do I self-nominate for an award?
Login with your ALLY Energy account here by clicking Login>ALLY Energy on the main navigation bar at the top of the page.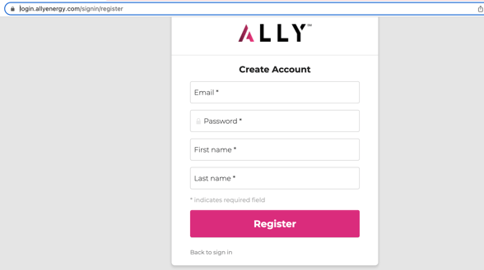 Find the award you wish to nominate yourself, your team, or your company for, and click on the MORE button.
You can review the description for this award and then click on the APPLY button.
Quick Tip: If you ever need to navigate back to this program, or want to view the other programs, just click on 'Programs' in the main navigation bar at the top of the page.

Click on the green APPLY button, and once inside your application you will see 5 tasks (one additional optional task exists for the Best Energy Workplace award).

1st task - Enter your individual, company or team information and ensure to mark as complete once done.
2nd task - Select the 'I am nominating myself/my team/my company', then complete all questions and click mark as complete.
NOTE: we ask you not to put the name of individuals, companies or teams in the answer to your application questions, so we can remove the bias from the judging. For example please start answers with ' They should be nominated because…. They have shown GRIT by… I have seen them mentor others…. Etc.)
3rd task - Enter 2 references who will then receive emails to recommend you. Mark as complete when done. Quick Tip: you may want to ask or notify them in advance.
4th task - Upload supporting documents such as your headshot and resume for individual applications, logos, and team photos for a Group, Team, or Company. Mark as complete when done.
5th task - Enter the communications contact of your organization that we can work with in case you are a finalist or winner. Mark as complete when done.
For Best Energy Workplace only - 6th task - Upload a copy of your current CSR report and then mark it as complete. (Optional)
Quick Tip: If you ever need to leave and come back to finish the application just press 'Save and continue editing.' Your application can be found later by clicking on the 'My Applications' in the navigation bar.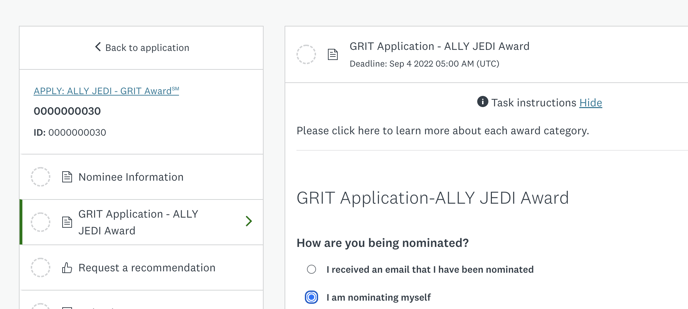 Quick tip: The left-hand side of your screen will show your progress on each task and the circles that are half-full will need to be completed before the submission is possible.
Once all tasks are completed in your application, click submit.
Quick Tip: To self-nominate for another award, click 'Programs' in the main navigation bar at the top of the page and repeat the above process.