Host, Katie Mehnert, is joined by Nicolette DiMaggio, an equity research associate for Willis Towers Watson and author of "Stock Explore" a book that teaches the 5 principles of financial literacy to kids. They discuss the gender gap in finance and her mission to teach financial literacy across generations, genders, and ethnicities.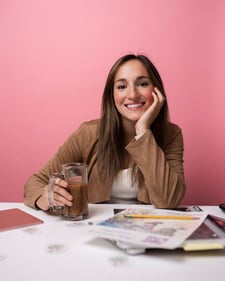 Why Stock Explore (01:37)
According to Nicolette, about 30% of financial advisors are women, compared to portfolio managers, of which women represent less than 10%. She discusses how her interest in finance sparked as a college student, as well as her inspiration behind Stock Explore, an illustrated children's book with the aim to simplify the five principles of financial literacy. Nicolette finds it imperative that we familiarize our kids with financial principles earlier on, so that future investors are more diverse, educated, and empowered. These principles are otherwise known as Porter's five forces. The five forces include: the threat of new entrance, rivalry among competitors, bargaining power of suppliers, bargaining power of buyers and the threat of substitution.
Industry gender gaps (07:30)
Katie reports that both the energy and financial industries seem to be lagging behind in terms of workplace diversity. Nicolette believes there needs to be more female role models within the top sectors of the finance industry and Katie echoes this sentiment, stating that more diversity in any industry generates better output and better financial results.
Young investors support climate action (10:40)
The discussion then shifts towards the influence that younger generations of investors may have on climate action. Nicolette shares her observations of millennial and Gen Z investors as being very aware of climate-related investment risks. This further emphasizes the importance of educating future generations on investing - they can drive climate action policy.
Fund your ideas (11:57)
At the end of the episode, Nicolette encourages people to act on their ideas, in the way she did with Stock Exchange, a self-run kickstarter. She says you never know where an idea may take you or who it could help, and this alone makes any idea worth pursuing.