Laura's inspiration is the power of progress. From acquiring clean power ventures to investing in alternative fuels and non-profits, her mission is driving a sustainable landscape forward. This is her story:
Laura Castle always dreamt of working in energy. Growing up in Michigan, she developed a love for the great outdoors and an interest in sustainability. She had an intense desire to make an impact and wanted her education to enable her passion.
"When I decided to major in Marketing at Michigan State University, I wanted to ensure my work made a difference that mattered to me. I had bigger dreams than my major, so I knew that the closest thing I could do for the environment was to find ways to sustain it for future generations." So, she minored in Sustainability and aimed to work for a solely renewable energy company.
Fresh Off Campus
Laura has always been passionate about renewables. "Energy fuels everything, so working for a company that makes this vital resource accessible to more people across the globe is really important to me." When Laura received an offer to join the Shell Graduate Program (SGP), her career got an unexpected start. She saw a different side to the company she formerly believed was purely about oil and gas.
"After realizing that Shell sells 3% of global energy, I thought they could actually make a real change. And I'm going to work toward using the skills I've gained in sales, marketing and communications to help promote renewable products. Solar, wind, whatever it may be – this is our future. At Shell, I can see myself working towards a more sustainable movement."
A Young Leader Makes a Mark
In 2017, Laura's first role following the SGP led her to a Business Technology Analyst role in the Retail business. Laura was responsible for overseeing site-level technical operations for 250+ fuel wholesalers in the US with 14,500 gas stations nationwide. In the same year, she helped roll out the Shell Mobile Payment Application, a new technology that delivered a seamless experience for Shell customers paying on-the-go.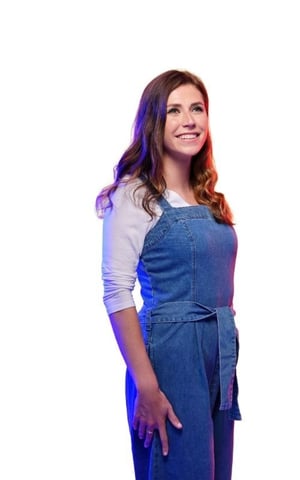 Only one year later, Laura was promoted to a Market Account Manager in Shell's Lubricants business. She single-handedly managed 16 Shell retail accounts with 300+ locations nationwide and contributed to the required sales volume. "I made headquarters calls, visited field stores, trade shows, and influencer events. I enjoyed meeting new people, being out in the market and engaging with partners. I saw this role as an opportunity to be an ambassador for the brand."
While Laura excelled in her Account Manager role, she met her toughest challenge yet when introducing a new Shell product. She was responsible for securing agreements to add Rotella Gas Truck to her clients' store shelves. "It was challenging because I was new to the business, but it was both a privilege and a learning experience to succeed in this endeavor." Laura ended up being the first on her team to sell the new product to one of her larger retailers. Doing this allowed Laura to lead at a very early stage of her career, especially for a high-demand role in Lubricants.
Energizing the Future
Laura's journey at Shell has been both challenging and fulfilling. It's taken her closer to her passion: sustainability. "Shell's progressive stance on the Energy Transition was the main reason I joined the company. While volunteering at Shell Eco-marathon for the past 3 years, I became intrigued by External Relations (ER). So, when I saw a role come along that centered around Shell's investment in conservation and partnerships with environmental non-profits, I knew it would be a great fit, so I didn't hesitate to apply! I'm happy to say I have now been in the ER role for about 6 months and feel right at home."
Laura is working in a space she's passionate about, using the skills she's gained in the past. "I feel very lucky to have experienced different roles, worked with smart and friendly colleagues that inspired wisdom, and acquired various applicable skillsets in the roles I held—all in just 3 years. Having minored in Sustainability, and now sitting in an ER role that focuses on social investment in programs that protect, preserve, and restore the environment, I feel that I am truly making a difference. I am working for a company that is dedicated to finding sustainable answers to the energy transition. Shell is definitely committed to the energy transition and investing in new energies outside of oil and gas."
Laura is inspired to see an increasing number of women like her in leadership roles. "The company culture supports authenticity and openness. I don't feel like I need to hide the things I care about, like fighting the fight against climate change. As a woman leader, I embrace failing forward, so that I can grow and become a better version of myself."
Ultimately, Laura is reminded every day that her desire to make the future matters.
"My friends who hassled me about working for a Big Oil major when I'm the person who's preaching renewables, need to understand that just because Shell has always been viewed as an Oil & Gas company, doesn't mean that's what it will always be. Times change. People change. Companies change. I want to be part of that."