Welcome to the Voices of Energy podcast where host, Katie Mehnert leads the discussion on how we will meet the growing energy demands and make the energy transition a reality. These changes will define the world and drive actionable strategies into a new era. In this episode, Katie welcomes guest, SaLisa Berrien, Founder and CEO of COI Energy, a digital energy management platform that detects and eliminates energy waste. SaLisa has over 25 years of diverse work experience within the electric power and smart grid space and serves on the Board of Trustees at the University of Pittsburgh. Katie introduces background information on SaLisa and a rapid fire round of questions to get to know her. Find out more about her night owl tendencies, her favorite travel destinations and her newfound hobby.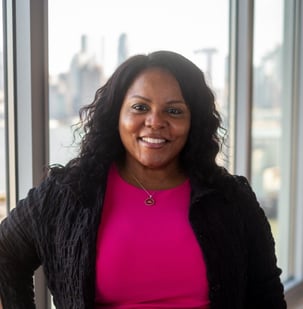 A passion for powering the world (5:00)
The conversation gets rolling as Katie asks SaLisa how she became interested in the field of climate technology. SaLisa talks about her time as a mechanical engineer student at the University of Pittsburgh and how her childhood experiences with energy poverty lit a passion within her.
Texas' power grid failure (6:30)
In light of climate change and the recent February 2021 climate crisis in Texas, Katie wonders what steps need to be taken in order to prevent such drastic situations. SaLisa explains the three ways COI Energy contributes stabilization efforts: by optimizing the electric grid, repurpose energy waste to combat carbon emissions, and repurpose in order to give equitable access to clean energy solutions to marginalized communities. If we repurpose some of what we are wasting, SaLisa hopes the whole ecosystem can be cared for.
Marginalized communities lack equal accessibility (9:15)
The conversation then shifts to a vulnerable note while Katie shares her own experience during Hurricane Harvey. She articulates the moment she truly realized the problem of climate change, and the ways people from every socioeconomic background are affected by it. Hear how COI Energy was able to provide essential PPE to those in need at the start of the pandemic. Again, SaLisa stressed the huge impact eradicating waste could have on solving many social and economic problems.
SaLisa's role models and advice for next gen energy workers (17:35)
Next, SaLisa shares a personal anecdote regarding her first job in the field as the only black person and the only female. She recalls the opportunity of getting to build relationships with people in her community and how she finally found a role model figure. Then, she discusses the importance of maintaining a supportive and motivating ecosystem around you. Listen as SaLisa shares the important advice she would give to a young person interested in energy. Energy is all around us, and power people make a difference. Let your passions be the fire for you to make a difference.
Thanks for tuning in to this episode of the Voices of Energy podcast! To download this episode or hear more, listen on Apple, Spotify, Google, Stitcher, or TuneIn.