ESG: What is it?
The disruptions of 2020 have underscored the critical importance of organizations managing and reporting their impact on the economy, the environment and society. ESG stands for Environmental, Social, and Governance. It's a mode of evaluation to apply to businesses, the better to take measure of their level of sustainability.
ESG measures look at things like workforce diversity, wage gaps, health and safety, carbon dioxide emissions, human rights, ethics and compliance, water management, and community development. ESG metrics and solutions shed a light on a company's future outlook for investors, lenders, insurers, shareholders, regulators, employees and consumers.
Some questions to ask yourself:
Environment: What is your company doing to reduce emissions and carbon footprint?
Social: Is your company's workplace safe and healthy and how do you measure this? Does your company participate in its community as a source of value?
Governance: Are the interests of your stakeholders in a state of balance and accountability? What risks How does your company, if multinational, perform across a varied spectrum of laws and regulations?
ESG has become a financial challenge.
For oil and gas companies, cost of capital has increased and sources have become more limited
Institutional investors use ESG rating practices
One in four dollars under professional management in the U.S. considers ESG factors in investments
Almost 70% of banks screen their loan portfolios for ESG issues
Consider financial impact of ESG activities on business and results of operations
Sustainability reporting has become a "numbers game"
ESG has become a legal challenge.
Boards and management should recognize ESG is not a trend.
Heightened focus of investors on ESG matters.
Boards are expected to be more engaged than ever.
Poor ESG performance will impact access to capital.
Attention to certain ESG topics is consistent with fiduciary duties.
ESG and sustainability have quickly become mainstream governance topics.
To manage risk and evaluate progress, need clear metrics and goals.
Information and management systems may need to be adjusted.
Corporate strategy is expected to include ESG matters.
Open engagement in stakeholder communication is expected.
The tone at the top matters.
ESG Frameworks
There are five well known frameworks and standards by which companies should asses itself.
The Taskforce on Climate Related Financial Exposures (TCFD) provides comprehensive guidance regarding disclosure of governance, strategy and risk management. Download the recommendations.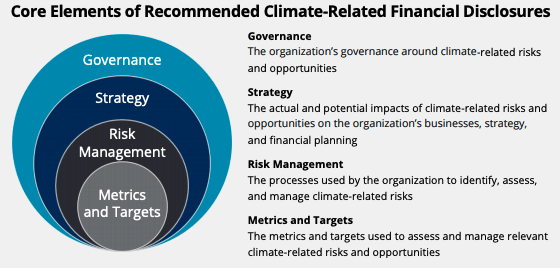 SASB standards provide industry-specific metrics to set targets and measure the effectiveness of governance, strategy and risk management. Download the standards.
Carbon Disclosure Project (CDP) is a not-for-profit charity that runs the global disclosure system for investors, companies, cities, states and regions to manage their environmental impacts.
Climate Disclosure Standards Board (CDSB) is an international consortium of business and environmental NGOs offering companies a framework for reporting environmental information
Global Reporting Initiative (GRI) exists to help organizations be transparent and take responsibility for their impacts to create a sustainable future. Download the standards.
The ESG Maze of Complexity
Taken all together, these bodies, frameworks, and features have created
confusion among producers and users of sustainability information – and have made it harder to develop the comprehensive solution for corporate reporting that is urgently needed.
In 2020, The World Economic Forum, the International Business Council, The Big Four Accounting Firms and the five framework bodies listed above worked to develop Measuring Stakeholder Capitalism: Towards Common Metrics and Consistent Reporting of Sustainable Value Creation This effort seeks to improve the ways that companies measure and demonstrate their contributions towards creating more prosperous, fulfilled societies and a more sustainable relationship with our planet. It also sought to address:
Joint market guidance on how our frameworks and standards can be applied in a complementary and additive way;
A joint vision of how these elements could complement financial generally accepted accounting principles (Financial GAAP) and serve as a natural starting point for progress towards a more coherent, comprehensive corporate reporting system; and
A joint commitment to drive toward this goal, through an ongoing programme of deeper collaboration and a stated willingness to engage closely with other interested stakeholders.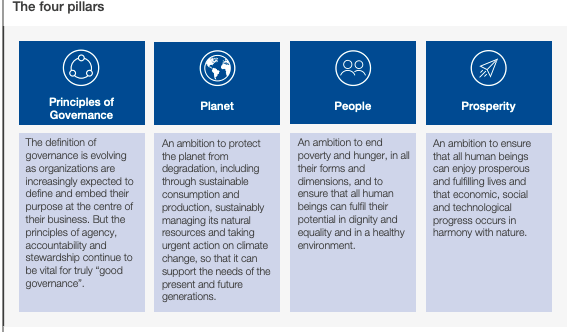 The importance of ESG in Energy
Proven ESG credentials are also going to be an important driver for energy industry stakeholders - lenders, insurers, shareholders, regulators – and even employees and consumers.
The transition to a low carbon economy is a transformation in the making
and you must ensure your business is aligned with the new landscape. That means a fundamental appraisal to climate risk, to achieve (or maintain) an ESG rating that will enable you to attract and maintain the support of the all the stakeholders critical to your business. In short, today's successful energy businesses have to have an ESG footprint.
We're here to help.
ALLY's ESG Energy Council will focus on strategies, solutions, culture and best practices.
In 2015, ALLY recognized two emerging macro-trends: the rise of the need for a diverse and inclusive workforce and the increasing social demands around climate change. We formed a company to put a focus on the development of women in energy. We're now expanding that effort to focus on gender, racial equity, neurodiversity and the LGBTQI+ community. We believe that equity and environment live on a married index and will drive us to a new lower carbon economy.
Our member organizations represent some of the largest energy companies in the world all the way deep into the value chain. We want to draw upon the expertise around ESG best practices and solutions to accelerate the industry's progress. We're already working actively in oil and gas and renewables to address the economic and social impact of the changing energy ecosystem.
The ESG Council is a new member benefit for our ALLY Council organizations, and a natural extension of our work in human capital management. We will bring best practices, solutions and unique experts to assure members are able to learn and accelerate their own strategies and execution of those plans.
To learn more about ESG and to connect with a network focused on solutions, read more about our ESG Council and join ALLY today.