2022 Executive Conference Innovation, Environment and Energy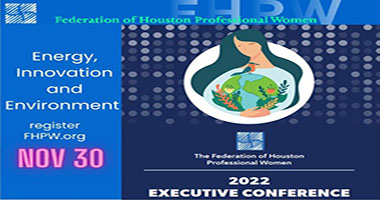 This year we are reminded of our resilience. In a world of challenges, we continue to find avenues to thrive. The theme for the Federation of Houston Professional Women in 2022 is "FEARLESS: Thriving in the World of Diversity" This expresses our will to meet the challenges of life and the choice to thrive.
Inspired by this theme, the Federation is focusing on the drivers that are core to the founding of the organization. The Federation has always been focused on elevating professional women's voices to drive bigger changes. As a professional organization comprised of non-profit member organizations, we decided it is critical that we focus on megatrends that impact our businesses and professional lives. How can we have a voice in these megatrends to ensure that our objectives are being considered by decision-makers?
We announce our first annual 1/2 day executive conference. The agenda is Innovation, Environment and Energy. Climate change is a global megatrend that is and will impact women in every aspect of life, yet women are still a minority voice in this issue. This conference will give members and guests the opportunity to learn and connect with executives and leaders in this area to understand the issues and ask questions. This bi-directional communication will foster positive change and act as a catalyst to bring more women to the table.
Event Details
30 November, 2022
11:00 AM
In Person
---
Share This Event