After a year like 2020, focusing on gratitude this Thanksgiving might seem a little tougher than usual. When dictionary.com asked people to describe this year in one word, responses included "hellacious" and the Britishism "omnishambles," meaning "a situation, especially in politics, in which poor judgment results in disorder or chaos with potentially disastrous consequences."
For those of us in energy, it's been a particularly difficult ride, with the price war and pandemic throwing global markets into a tailspin, and many of our industry colleagues losing their jobs.
Amid all this -- and even as recent spikes in Covid-19 cases make social distancing as important as ever -- I'm looking forward to celebrating Thanksgiving and focusing on what I'm grateful for.
Of course, there's a lot we all should be grateful for -- our health; the heroic work of front-line workers; the way millions of people have been willing to adapt and take precautions to try to limit the spread of this deadly virus. Also, following the election and with news of possible vaccines on the horizon, things are looking up.
I wanted to focus on three things that make me grateful to you.
The success of ALLY.
This is the year we launched our community platform, ALLY, connecting people across the energy industry. We're delivering resources and information to help people discover job opportunities and new ideas to lead the energy transition. This community has skyrocketed even beyond our expectations -- a sign of how much we can accomplish when we come together.
The thought leadership.
Before the pandemic hit, when in-person events were still happening, we gathered together many of the top minds in the industry for the Energy 2.0 Summit. Among the highlights was my conversation with actor and activist Jeff Bridges and former presidential candidate Gen. Wesley Clark about energy and their documentary, Living in the Future's Past.
Living in the Future's Past from ALLY on Vimeo.
Everyone standing up for inclusion.
This year, we saw new efforts to end racism nationally, with people standing up and protesting for justice. As I wrote in a column titled Speaking Up on Racism, horrific impacts of systemic racism have eroded our society for centuries. We all must be allies in this effort. ALLY was created to advance diversity, inclusion and gender equality across the energy sector. In recent months, more and more energy leaders have been announcing new steps to address the racial and gender gaps we face.
There's plenty of work to do in the months and year ahead. It will take grit, of course -- (congratulations again to the GRIT winners) and a recurring theme in my book, Grow with the Flow, which also came out this year.
What are you feeling grateful for? Join the discussion.
An invitation, and an ask
Join us next week, Tuesday Dec. 1 at 4pm CT for our virtual holiday celebration.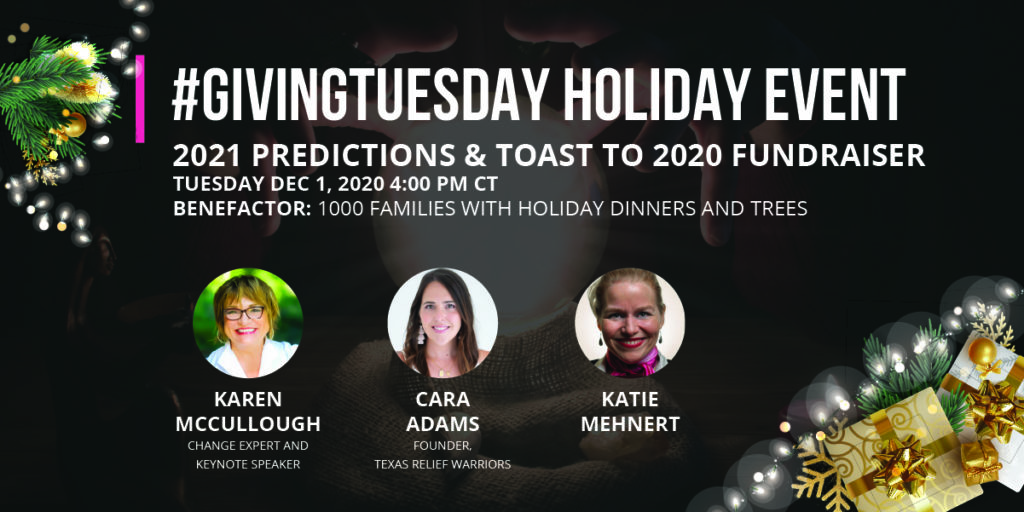 A question for you: What are your predictions for 2020? We'll be sharing some of them.