Every large business was once a small business.

Michael Bloomberg
ALLY by Pink Petro has been chosen as 1 of 24 businesses to join the 2020 Goldman Sachs 10,000 Small Businesses program.
Goldman Sachs 10,000 Small Businesses is a national investment program to help entrepreneurs create jobs and economic opportunity by providing greater access to education, capital and business support services. To date, more than 9,100 business owners have graduated from the program across all 50 states in the US, Puerto Rico and Washington, D.C. Katie Mehnert, CEO and Founder, recently in the 28th cohort led by Houston Community College.
The program has three parts: practical business education, a network of support, and access to capital.
And COVID-19 didn't stop the team at Goldman Sachs, Babson College and the many partners they work with to delivery the program like HCC. This fall's cohort has launched online to administer the online education.
The program includes business to consumer and business to business companies of all size and is in place to help entrepreneurs grow and scale their businesses.
I'm honored we were selected to be a part of this program. I know it will complement the growth plan we have for the company. The timing is perfect for us.

Katie Mehnert, CEO of Pink Petro / ALLY
The program includes a full review on strategy, business fundamentals, finance and accounting, legal, marketing, exit and risk plans.
Business owners are paired up weekly to do practical hands on work and meet twice-a-week as a cohort to attend special courses and clinics on topics necessary to help companies grow.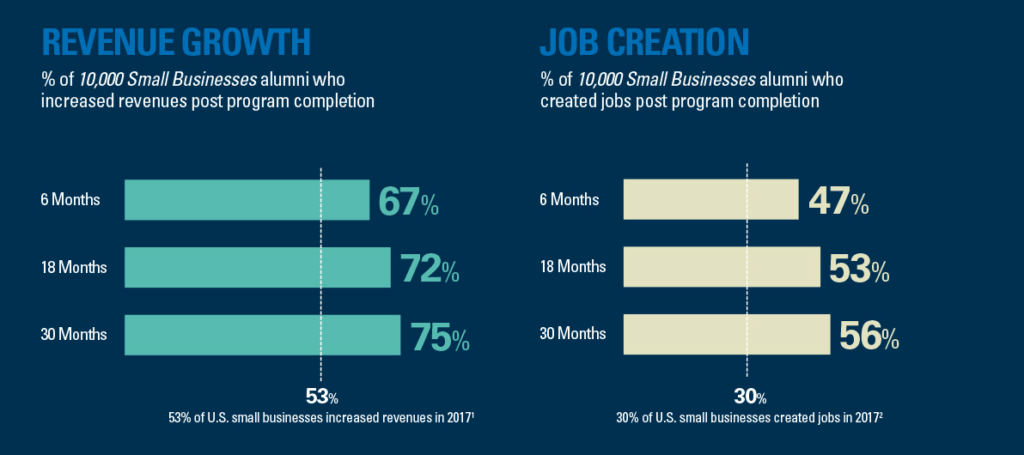 I am very impressed with the diversity of the businesses selected for this program. These people are the heart of America and it's been great to get perspectives I wouldn't have without this program.

Katie Mehnert, CEO ALLY / Pink Petro
The 10,000 Small Business program takes applications twice a year and operates in Baltimore, Chicago, Cincinnati, Cleveland, Columbus, Dallas, Dayton, Detroit, Houston, Iowa, Long Beach, Los Angeles, Miami, New Hampshire, New Orleans, New York, Philadelphia, Rhode Island, Salt Lake City. The program is also available to business owners across the country through the National Cohort which has reached businesses from all 50 states, Puerto Rico and Washington D.C. The National Cohort is delivered through a combination of in-person and online learning twice annually to businesses who are located beyond reasonable driving distance of the local programs.