In the early 90s, after Rodney King was beaten by LAPD officers, a door cracked open. And through that crack, the spark of a movement began to shine, inciting a wave of riots that lasted for six days.
At that moment, anything seemed possible.
Or at least that's what former NFL Player Johnnie Johnson thought.
"After all the rioting I felt change would take place," said Johnnie. "But it never did. The type of change I hoped for never came about."
Now is the Time
Nearly three decades later, after George Floyd was killed by Minneapolis cops, America had to, once again, grapple with the fact that its racism problem has not yet been put to bed.
And it was after Floyd's murder when Johnnie Johnson felt a call within.
If change is going to take place, I just thought: We really need to act.

Johnnie Johnson
He was determined to not let this moment pass him by. He reached out to his client Dr. Michael E. Webber, a Professor at the University of Texas and Chief Science and Technology Officer at ENGIE. For the past 13 years, Michael had been coming to Johnnie for business and personal coaching. After retiring from the NFL, where he played with the Los Angeles Rams and Seattle Seahawks, Johnnie had started his own coaching business called World Class Coaches.
Since he and Michael had gotten to know one another well over the past decade, Johnnie had an idea. What if they came together to write a book about the importance of Diversity, Equity, and Inclusion? With their differing backgrounds — a white guy from engineering, a black guy from athletics — Johnnie just had a feeling that they could create something meaningful together.
Joining Forces
At first, Michael turned the proposal down. After all, he thought, why would anyone want to listen to him when it came to the topic of diversity?
But as the days went by, he realized that he no longer wanted to stay silent about an issue that was so important.
So he agreed to team up with Johnnie to write the book.
And what transpired after that was a whirlwind of zoom meetings and writing that spanned the course of several months, until they had a finished manuscript in their hands.
"Johnnie and I have different writing styles," said Michael. "It was very collaborative. We spoke on the phone about key themes and discussed the messages we wanted to share. We spent an hour or two every day speaking."
The book is called From Athletics to Engineering: 8 Ways to Support Diversity, Equity, and Inclusion for All. It is the culmination of both men's stories and experiences in their respective fields.
The ebook was just released. And the physical book, slated to launch on April 8, 2021, is now available for pre-order.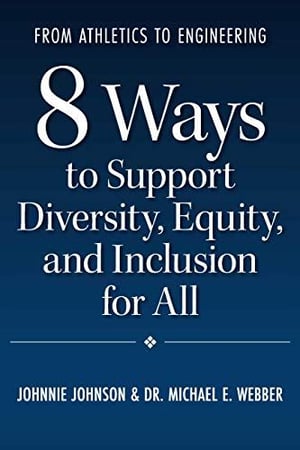 "The book is written from firsthand experience," said Johnnie. "Sometimes people just write from research. And yes, we did research, too, and we used the sports and engineering analogies. But the firsthand experience — that's what makes this book unique."
Both Michael and Johnnie felt strongly about writing the book in an easy-to-digest manner, and taking it out to both the worlds of athletics and engineering, as they felt those audiences weren't being reached as much.
And though some people might initially think that both worlds aren't related, they might actually be surprised. In the book, the authors write that the two spaces are more similar than we might think, as they're "both rooted in solving problems and applying a set of guiding principles to achieve goals."
"Diversity, Equity, and Inclusion are important because if we want a harmonious society, we have to get along and collaborate," said Michael. "We're all different. And we have to be respectful of those differences."
Johnnie added: "When it comes to supporting DEI, we believe the time to act is now. And it starts with each of us."
If you want to grab a copy of their engaging, no-nonsense, and impactful book, be sure to do so here. It's full of some great stories and wisdom that you can take and easily implement into your workplace or community.
Also: Both authors will be speaking at ALLY's upcoming International Women's Day Summit on March 8. Join us by registering here.