Colette Honorable is originally from Arkansas. Still bearing a slight trace of a Southern drawl — she introduces herself as a "grit": girl raised in the South.
But she's also a prime example of another kind of GRIT. Her career was built on growth, resilience, innovation, and transition.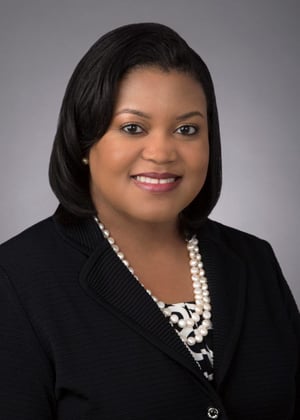 The short version of Colette's story goes something like this: She's a lawyer by trade — now a partner in the energy practice at Reed Smith in Washington, D.C. — who worked in the public sector for a number of years. She worked for elected officials and public officials, and eventually became one of the latter in Arkansas. She led a national nonprofit supporting state utility regulators, and eventually got a call from the White House to come run the FERC.
But the fascinating part of Colette's story is in the details.
For one, she wasn't just your run-of-the-mill attorney. She was driven to the law — and her alma mater, the University of Arkansas at Little Rock School of Law — by a passion for public interest. She helped women who were being abused get out of their marriages and represented those who were injured and unable to work secure social security disability benefits. Colette was an advocate for children, women, and the elderly.
"It was a powerful thing to use this law degree to help people when they needed it most," Colette says. "I just wanted to try to save the world. As a new lawyer, it was inspiring. It was humbling. I felt so many things about that role and just proud to be in a position to help other people."
As her legal career progressed, Colette took on a variety of roles, including serving as chief of staff for the Arkansas attorney general's office, chairman of the Arkansas Public Service Commission and president of the National Association of Regulatory Utility Commissioners — the first African-American to hold that position in the organization's 125-year history.
"In all of that work, I had to learn how to work well with people with whom at times I did not agree. I had to lean on what I learned in the South — treating people with respect and being pleasant and professional even when I abhorred the position someone took," Colette says. "It was very good to learn how to be civil while being strong."
Then, in August of 2014, she got a call from the White House. It was a request from the Obama administration to serve as commissioner of the Federal Energy Regulatory Commission, an independent agency that regulates the interstate transmission of electricity, natural gas and oil.
A month later, her husband and partner of nearly 30 years died suddenly and unexpectedly - the tragic result of complications from a routine medical procedure.
Colette had accepted the FERC nomination, but now she was unsure. The move to Washington had been a family decision. Now she was a single parent, with a teenage daughter to consider.
In the end, though, it became family decision once again. Her mother had recently retired and offered to join Colette and her daughter in D.C. full time.
"We're three generations of fearless Southern women living together under the same roof," Colette says with a laugh.
"I have found the strength to not only overcome and persevere but now to reinvent myself. And I think, as women, it's important that I share that story because other women go through challenges, and they don't need to just see someone sitting in an ivory tower," she continues. "When you see what people have overcome, that is how we help one another."
Colette went on to serve as commissioner of the FERC for two and a half years, from 2015 to June 2017.
"Our role is to oversee the electric system — the grid — and we addressed and made decisions on matters concerning millions and billions of dollars," she explains. "So the stakes are high. The system is complex. Our ability to work well with state regulators was important, and our ability to serve well and serve the industry well was important — in ways only energy geeks would appreciate."
In 2017, when her term came to an end, she learned that both sides of the political aisle would support her pursuit of a second term. But in the end, she declined.
"There were a number of ways that job allowed me to see not only things in this country, but in the world that I would have never imagined," she says. "I also realized a greater potential for myself and my family by having had these opportunities."
And it was time for her to start exploring that potential.
Colette joined the D.C. office of Reed Smith and is now part of the firm's Energy and Natural Resources Group.
"I knew Reed Smith would be home for me because they value relationships. They value diversity and inclusion, and my mentor at the firm, Kyri Evagora, said, 'We want you to come here and just be you. That's all we want,'" Colette recalls. "That's important for women in particular to work in a place where they're comfortable, where they can be their best and authentic self and where they can be supported in their work."
Since she joined the firm, she has volunteered to serve as co-chair of Reed Smith's women's initiative, called WINRS — an extension of a deep commitment to supporting women. Colette created an international mentoring program for women a few years ago — the Women in Energy Mentoring Program — that pairs mid-level professional women with leaders in energy.
"I'm grateful to have had opportunities when people saw something in me that I didn't see in myself, and I think we have an obligation as women to tap that in each other," Colette says.
"I've had to learn to become comfortable with being uncomfortable because that's how we grow."