Katie Mehnert, CEO and Founder of ALLY Energy and host of The Voices of Energy, was joined live by Rhonda Morris and Adam Bryant for this special final episode of the Race in the Workplace series. Rhonda and Adam are the co-creators/authors of "Leading in the B-Suite", a popular LinkedIn Newsletter that interviews black executives around life, race, and leadership.
Rhonda and Adam's background (00:56)
Katie kicks of this episode by providing background on both Rhonda and Adam. Rhonda is the VP and Chief HR Officer for Chevron. She serves on the executive committee at Chevron, along with serving on other various boards. Adam works at Merryck and Co.—an executive mentoring firm—as a managing director. Before this, he worked for 30 years as a journalist, including 18 years as a reporter, editor and columnist at The New York Times and has interviewed over 600 CEO's. In addition to "Leading in the B-Suite," Adam authors 3 additional newsletters on LinkedIn – "The New Director's Chair," "The Art of Leading" and "Strategic CHRO." Adam has written three books and his latest, "The CEO Test," will be released in March.
What is the B Suite and what do Rhonda and Adam hope to achieve? (02:58)
Adam explains there are a few guiding principles and goals that they have as they work to interview prominent black leaders. From engaging in the seemingly uncomfortable conversations about race in America, to being a role model for how to have these conversations, the B Suite addresses the blaring gap between people's walks and talks. Rhonda emphasizes the significant power of role models and the black executives they featured recently.
A determined duo (05:18)
Katie dives into asking Adam and Rhonda about how they got paired up in starting the column together. They explain that the friendship grew from their rhythm of talking about awkward topics. After the events surrounding the death of George Floyd, both Adam and Rhonda felt it necessary to create an avenue where the conversations would continue on long after the buzz died down. They've received great feedback and engagement from individuals who wanted to join in on this conversation and share their thoughts.
Common themes across black leadership (08:11)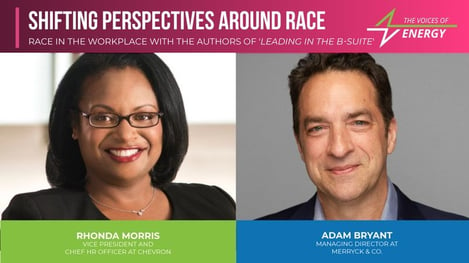 Deep conversations enable change and have proven to reveal reoccurring themes for Rhonda and Adam. They share about the different standards of what success is expected to look like and the common experiences shared by black executives. While the obstacles in the energy industry look largely identical to those in other industries, Rhonda and Adam share about their efforts to tackle the advancement of diversity within their companies.
Rhonda makes history at Chevron (13:56)
Katie asks Rhonda about her accomplishment of being the first black female corporate officer at Chevron and what this means to her. Rhonda talks about the importance of the role models she looked to over the years and the inspiration she received from her family's grit and determination in the energy industry.
The power of empathy and collaboration (16:34)
Adam jumps in the conversation to discuss their power of collaboration and the nuanced understanding he's grown in around these topics. Be a life long learner. Adam shares the power and importance of empathy—understanding what the lived experience of others is like. Put yourself in situations where you are the minority and learn to meet people where they are.
Themes and wrap-up (20:38)
As the episode draws to a close, Katie asks for parting thoughts and themes as we all look forward. Listen to the importance of taking the tough assignments that no one else wants, in order to get ahead. Hear about the importance of the confidence parents, education, and a personal board of directors can instill in launching people forward. Finally, embrace optimism and the hope of the future!