This is one of the hardest things I've had to write.
First, because cancer sucks.
Second, because its robbed Mother Earth of Dakota Stormer, passionate entrepreneur and wicked smart engineer who was the first to help someone before he'd help himself. Cody was a selfless leader who inspired others to do good things, too.
First words: let's go make a dent in the universe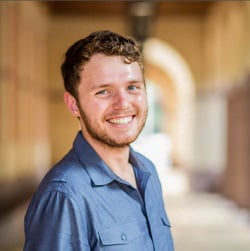 An eager founder and CEO (and former Shell engineer) of Footprint App, Dakota was tenacious to meet with me earlier this year. "I need to meet with you. We have a lot to talk about and a lot to get done."
I remember thinking, wow this guy's got things for me to do, huh? How about the 12912301920319 things I already have to do? It's pretty standard when people leave the corporate Big Oil chair. They want to swap notes, talk post-corporate life, and network. I smiled at his tenacity, being reminded of my own energy at 26, and agreed to meet. Cody was the kind of guy who wouldn't take no for an answer, and he did just jump into the owner chair from a comfortable well-paid one. Why not, I thought?
Dakota's first few breaths when we met was "Consider me in. I'm an ally and I cannot wait to work together. Let's go make a dent in the universe." Classic Steve Jobs line, however I remember the impression that made on me. Most of you know the intense focus I've had on an equitable energy transition but the conversation we had in a span of 30 minutes blew my mind. This guy was telling me, we were going to change the world and Cody was the kind of kid you could count on making **** happen.
Second words: back pain is for 40 somethings...
In late June we were enjoying an evening in the kitchen at Greentown Labs where we all live, breath, eat and work on energy transition solutions. Cody was leaning over in a lot of pain. He told me he had back pain and I laughed. Back pain is for 40-somethings, I told him, but encouraged him to go check it out.
A few days later we found out that Cody was diagnosed with Stage 4 lung cancer, despite never having smoked once in his life. The second leading cause of lung cancer is radon exposure. The shock of his diagnosis sent waves across the world. A Go-Fund me was set up, meal trains, doctors, specialists and lots of prayers, singing, and happy spirits. It's been a very emotional two months watching him fight, hoping and praying.
And then like that, he was gone.
Last words: smile because it happened...
I knew things were not good about a month ago. I wanted to visit but with COVID19 on the rise, I decided calls and texts would be the best way to connect. Sometimes he would pick up and other times he couldn't. A fellow colleague of mine, Nisha and I wanted to help Cody get his business in order, because we knew his vision would live on.
I wish I could have had a few last words with Cody. While I've cried plenty with many over our loss of Dakota, I'm smiling because life with him in it, happened.
I hope you will join ALLY Energy, our community, Greentown Labs, Shell colleagues, and the many people he touched over his 26 years of life to celebrate our founder and friend, Dakota Stormer.
In Honor of our Founder and Friend, Dakota Stormer
From Footprint's Co-Founder and CEO, Kelly Poirier
We are heartbroken to announce the passing of our Founder and CEO DakotaStormer. After two brave months of fighting stage IV lung cancer, Dakota passed during the early hours of September 4th.

Footprint lost a passionate, empathetic, and courageous leader who continuously inspired and encouraged those around him. For those of us fortunate enough to work alongside Dakota, we've lost not only an amazing mentor and colleague, but a beautiful friend.

Though we are deeply saddened, we are touched by the outpouring of love for Dakota and support of Footprint. Dakota dedicated his life's work to advocating for the betterment of the planet, to extending kindness to all humans, and to bringing communities together to solve hard, complex issues. Though Footprint will be a different place without Dakota, we know his kind and mighty spirit will be the foundation from which we continue to build, grow, and advance the company.
Dakota's family has arranged a series of events to celebrate his life. These are open to the public and will be held in person and streamed virtually.
The family has asked that in lieu of flowers, donations be made in his honor at: www.footprintapp.org

Friday, September 17th
Viewing
5pm - 9pm
Joseph J Earthman Generations
234 Westcott St., Houston, Texas 77007
Saturday, September 18th
Services at the Chapel
12pm
Second Baptist Church
6400 Woodway, Houston, TX 77057
Burial will follow the services
Glenwood Cemetery
2525 Washington Ave. Houston, TX 77007
A Celebration of Dakota's Life
6:30 pm
Majestic Metro
911 Preston St, Houston, TX 77002
Guests are welcome to wear one-sies to the Celebration of Life, in honor of Dakota. Please come dressed in your favorite character.
About Footprint
Footprint App, Inc. is an enterprise software solution that empowers individuals, businesses, schools, and cities to track and reduce their carbon footprints. The platform unites communities to enact change and empowers them to make sustainable choices. Footprint is committed to helping society stay below 1.5-degree Celsius warming. We believe that together, we stand strong against climate change.
Tribute to Dakota Stormer: Be Brave