Suzanne Coogan's passion stems from the Sciences. She hails from Dublin, Ireland where she graduated from the University College Dublin with a BSc in Science before completing a MSc in Exploration Geophysics at Leeds University. She joined Shell in the United Kingdom in 2006 through the Shell Graduate Program (SGP), and has since worked in the UK, Netherlands, Malaysia, and is now based in the US where she's leading a variety of projects in the US Gulf of Mexico (GOM).
"My family and I sought the opportunity to work and live in different cultures and I have really appreciated the rich cultural experiences that have gone along with this over the course of my 14-year career in Shell. We had a wonderful time living in both Europe and Asia, with my husband (a fellow Shell geophysicist) and our growing family of 3 children (now 2yo, 4yo, and 6yo) and we moved to Houston in 2019. Still being relatively new to Houston, adjusting to COVID-19 has come with some unique challenges, especially in learning how to best balance work and life together with such a young family. Some of the work I am most proud of has been helping to direct how Shell cares for its people throughout the COVID-19 pandemic. I am also very proud to be in the deep water exploration and production business, which is a thriving part of Upstream in Shell."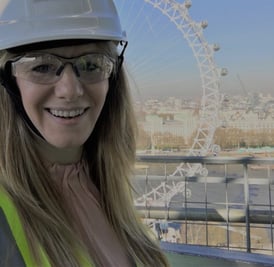 Caring and Leadership in a Crisis
"When the US documented its first-ever COVID-19 case early this year, and then later when the impact to our personnel became apparent, I told myself that I can't just watch from the sidelines. I immediately emailed my line manager asking how I could contribute in a meaningful way to protecting our offshore workforce from COVID-19," Suzanne said.
In March 2020, the GOM COVID-19 Testing Project was launched as a proactive measure to mitigate against the spread of the COVID-19 pandemic among Shell's offshore personnel in the GOM. "I knew I had the capacity to help. Within hours of stating my willingness to help, I started getting emails for the project." Everything was rapidly unfolding. With around twenty Shell employees deployed to run this aspect of Shell's COVID-19 risk mitigation strategy, Suzanne spearheaded a team to plan, strategize, and define the required safeguards for Shell Gulf of Mexico personnel who have continued to work offshore through the pandemic.
Suzanne led the diverse project team including, among others, incident response professionals, offshore operations personnel, commercial representatives, and even HR and legal employees who all volunteered to work on the project, mostly in addition to their regular responsibilities. They continuously consulted Shell Health from a medical perspective and brought in a suite of external medical experts and professionals to work alongside the team to shape and implement Shell's approach.
"We utilized advice from the World Health Organization (WHO) and Centers for Disease Control and Prevention (CDC), and we sought out advice from the Shell Health organization as well as external epidemiologists to come up with the response," Suzanne explained.

"We were also very mindful of the precedent that our actions would be setting, and we were also very careful to avoid implementing any solutions that would negatively impact the local community's capacity to get tested or treated. At the end of the day, our decision to implement pre-flight testing for all personnel travelling offshore was the right call, and it allowed us to meet our objectives of mitigating the risk that our colleagues would get COVID. We knew we needed to implement it right, and we knew that we needed to execute fast."
Suzanne's team developed health, safety, and other pre-embarkation guidelines, including a voluntary 14-day at home quarantine – which was implemented within 1 week after rolling out GOM COVID-19 Testing Project. They recommended social distancing for personnel on assets, whether they're at the gym, galley, or common rooms where most people gathered. "We put those measures in place as quickly as we reasonably could, and we have continued to (and will to continue to) learn from and adapt those measures as additional information becomes available."
"When things like this happen, the most important thing is that we learn and that we adapt going forward. While we now have a robust pre-embarkation testing process in place, it must be backed up by our people taking personal accountability for exhibiting the best behaviors, such as wearing masks and maintaining social distance where possible. This is an important part of our holistic approach to mitigating the risk of COVID-19 transmission offshore, and, quite simply, Shell's approach is focused on helping our people understand how best to mitigate their risk of getting COVID in the first place," she said.
Caring and Thriving in Her New Normal
"At the start of the quarantine, we had very long days. It was important that my team and I balanced our work and home time. My kids know their Mom is working on fighting coronavirus and helping to protect the people who go offshore for Shell. Explaining that to them early-on was critical so that they knew why I was so focused on work". Once the initial plans were implemented, it was then somewhat easier to revert to a more normal working day and ensure that we have quality time together.
GOM COVID-19 Testing Project has since averaged testing over 3,500 people per month and have seen our incidences of COVID-19 cases offshore drop significantly in recent months. To date, the initiative has been well-received by offshore teams and the perception has been positive. A group of 50 core contractors said that "it's the best that's been rolled out" and they genuinely think that Shell is doing the right thing to protect them. Like any other safety process or concern, it took time to embed these ways of working; however, now that they are embedded, we are seeing our offshore personnel have a pre-embarkation positivity rate far lower than that found in the communities from where they come.
"Personnel going offshore have made huge efforts to meet the in intent of the protocols. Wearing masks is one thing, but discipline to continue to do so in a challenging offshore environment requires real commitment and dedication not to normalize this risk. We need to remain vigilant to keep everyone safe in The New Normal," Suzanne said.
Picture acknowledgements
All pictures from Suzanne's personal photos except: hand sanitiser and medical professional from Shell stock