The Women's Energy Network Alliance (WENA) symbolizes the collective strength of nearly 500,000 women in the UK and US energy sectors. This remarkable organization emboldens women at all career stages across varied disciplines and sub-sectors. It advocates for girls' involvement in STEM fields, empowers women to ascend to boardroom positions, and fosters engineering across the entire energy industry. WENA's shared vision is to accelerate the advancement of female representation in the UK and US energy industry and cultivate successful career paths for women.
ALLY Energy is proud to be the first organization to have joined the alliance in 2023. Read the original release here.
In March 2023, WENA hosted its first-ever conference in London, drawing over 130 energy professionals. The event was a rich tapestry of inspiring speeches, lively discussions, and unique opportunities for attendees to delve into some of the most critical issues around diversity and inclusion during round table sessions.
As advocates for diversity and inclusion, our partner and client, NES Fircroft was honored to support this groundbreaking event and contribute to the resulting white paper. The document encapsulates key insights from the conference's discussions and serves as a blueprint for inspiring diversity and inclusion through dialogue and collective learning.
'You can't be what you can't see', led by REWiRE and ALLY Energy, was the theme discussed by five of the fifteen tables at the event and was about connecting participants with female trailblazers. Participants note the energy industry would benefit from diverse individuals openly challenging societal norms by publicly sharing their stories and empowering others to do the same.
The second key theme was 'Creating an energy industry value proposition', conducted by Lean In Equity & Sustainability. While attracting STEM talent is important, there are many periods of immense change women experience throughout their careers, such as menopause. »Actions such as embracing lateral thinking, using more gender-neutral language, and elevating more role models were seen as vital to transforming company cultures.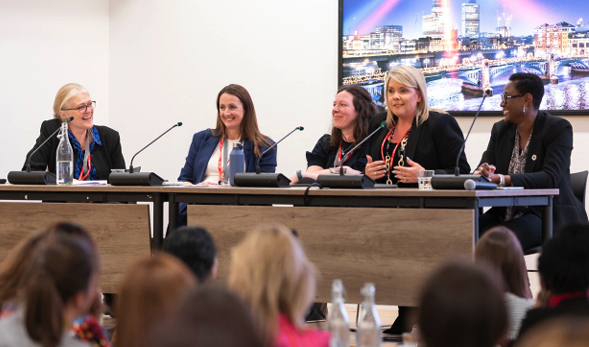 'Leveraging data to power diversity and inclusion' was organized by POWERful Women, Women in Nuclear UK, and District Heating Divas. When using data to lobby governments to implement inclusive national energy policies, it is critical to ensure data is comprehensive and readily available, relationships are built with policymakers, and multiple communication channels are utilized. Likewise, the top best practice tips offered to companies around collecting data were to simplify data collection, embed data findings into company culture, consider invisible minorities such as neurodiversity, and ensure the measurement of progress is a constant.
The white paper is a testament to WENA's commitment to sparking transformative changes and nurturing an environment where diversity, inclusion, and progress are celebrated. We invite you to download the whitepaper here, which offers an array of recommendations, strategies, and best practices. It serves as a navigational beacon for organizations and individuals alike, guiding them toward a more inclusive and diverse energy sector.