ALLY Energy Presents: Energy 2.0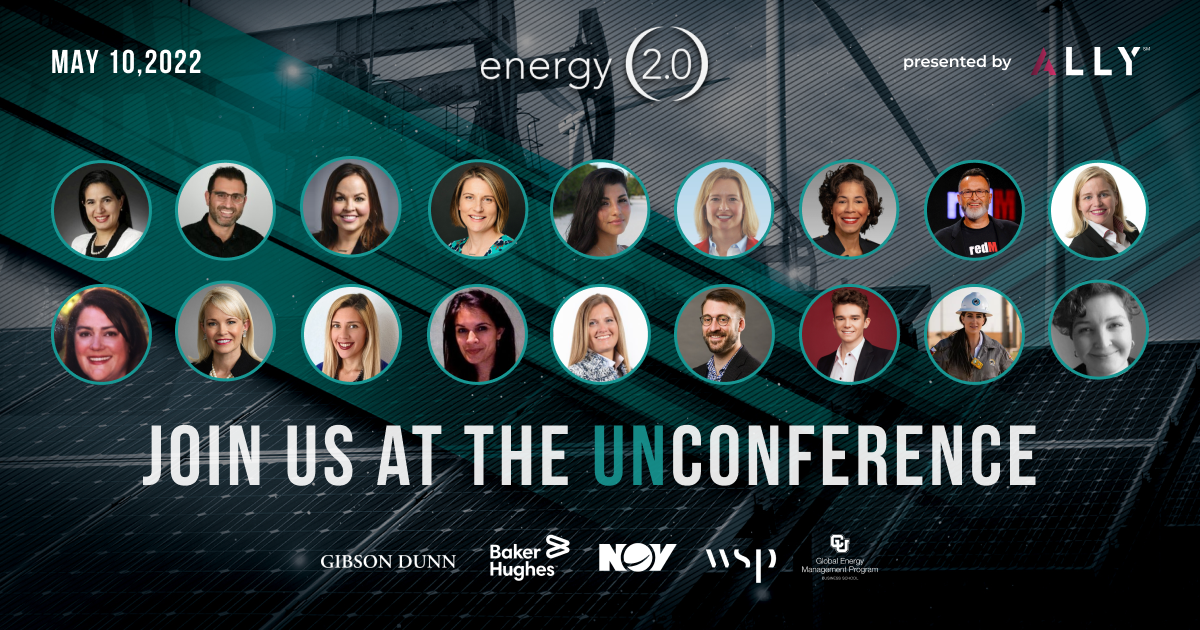 We thank Gibson, Dunn & Crutcher LLP as our presenting sponsor, alongside Baker Hughes, NOV, WSP Global and CU Denver Business School.
THE UNCONFERENCE
Energy 2.0 is the UNconference where we celebrate diverse perspectives, technologies, people, and the community at large who are driving the energy transition forward.
Our platform is for the workforce, leaders, investors, policymakers, and communities to share ideas to transform business at this pivotal time. E2Dot0 is where unique perspectives, generations, backgrounds, art, science, and technology collide. This year is more important than ever.
Join us!
Working Together to Power the Transition
The energy transition is a pathway toward transformation of the global energy sector from fossil-based to net-zero carbon by the second half of this century. It's the single largest economic transformation since the industrial revolution. With the resilience of business and society tested to the limit, our assumptions around the roles of business, academia, investors, government and the community at large are shifting. On top of disruptions to business, mobility, life, and work, there will be longer-lasting implications for this transition.
Since 2016, ALLY Energy (formerly Pink Petro) has annually convened energy experts, scientists, economists, artists, technologists, profound thinkers, and the curious about the possibilities of the new energy future. We've explored the intersection of the economy, energy, climate, and the people and workforce needed to power us into the next industrial revolution. Our belief is that all forms of energy are needed to power the demands of our world. This will require mass-scale allyship to drive this change.
This year we will feature illustrators capturing the conversations around the room. At the end of the day, we'll wrap up the illustrations and submit them to be commissioned for a mural to be dedicated later in 2022.
Agenda timings are listed in CST
Due to limited seating and our commitment to remain cautious with social distancing, this event is free to the public online but all in person seats are by invitation only. When registering, if you were given an invite only code please enter that to display ticket types you can register for that are in person.
8:00 AM In-Person and Online Networking & Registration
9:00 AM Opening Remarks with Katie Mehnert, Founder & CEO of ALLY Energy and Nour Salmen, City Solutions Manager, Renewables and Energy Solutions at Shell
9:30 AM Table Talks - current challenges facilitated by Sarah Smith, Director of Culture and Talent at Hundred Brands
10:30 AM Break
10:45 AM Partnership and Collaboration with Charlie Nelson, Chief Business Officer of Cemvita Factory, Lindsay Hook, Director of Corporate Strategy & Performance Mgmt. at the City of Houston and Deanna Jones, Chief Human Resources Officer at Baker Hughes
11:30 AM Networking Lunch
12:30 PM People and Culture with Sarah Derdowski, Executive Director-GEMS, UC Denver, Massiel Diez-Melo, Co-founder of Flipping the Barrel Podcast & MCA Reservoir Performance Sales Lead and Scyller Borglum, Ph.D., Vice President of Underground Storage Energy National Business Line of WSP Global
1:15 PM Table Talks - progress and solutions facilitated by Sarah Smith, Director of Culture and Talent at Hundred Brands
2:15 PM Break
2:30 PM ESG, Accountability and Measurement with Kathryn Roark, Vice President of Diversity & ESG at Patterson UTI, Hillary Holmes, Capital Markets, Securities, Governance, M&A, ESG Partner with Gibson, Dunn and Crutcher LLP and Sarah Stogner, attorney and Republican candidate for the Texas Railroad Commission
3.15 PM Innovation and Technology with Liz Dennett, Ph.D., Vice President of Data Architecture and Engineering at Wood Mackenzie and Zimri Hinshaw, CEO of Bucha Bio, Trevor Best, CEO of Syzygy Plasmonics, and Nisha Desai, CEO of Intentions
3:45 PM Closing Remarks with Katie Mehnert and LaTanya Flix, Senior Vice President, Diversity, Equity and Inclusion with Greater Houston Partnership
4:15PM - 6.00PM In-Person Innovation and Technology Showcase, followed by Reception
Event Details
10 May, 2022
8:00 AM CST
Online / In Person
Members Only
---
Share This Event