Evening with the Stars of Energy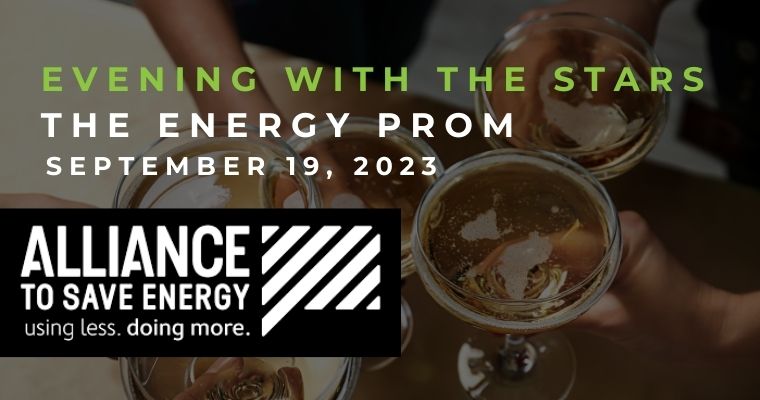 The Alliance is thrilled to celebrate the 31st annual Evening With the Stars of Energy Efficiency Awards Gala on Tuesday, September 19, 2023, at the International Spy Museum in Washington, DC. Lovingly dubbed "Energy Prom", the Gala draws hundreds of energy efficiency leaders from industry, government and academia together for an evening honoring the best and brightest in energy efficiency. Tickets from $1,000; Sponsorships ranging from $5,000-$20,000.
The Stars of Energy Efficiency Awards honor organizations and individuals that have demonstrated an outstanding commitment to advancing energy efficiency. These prestigious awards recognize those industry leaders who have made exceptional strides in implementing innovative strategies, emerging technologies, and transformational practices or services to achieve significant energy savings. The recipients of the Stars of Energy Efficiency Awards are pioneers in their respective fields, serving as role models for other organizations and inspiring industry-wide change. We will be accepting nominations for the following categories:
Built Environment (Residential and/or Commercial)
Transporation
Industry
Utilities (Generation and Supply*)
Consumers
Candidates for these awards should demonstrate a significant impact in one or more of the Alliance's core priority areas: Equity, Reliability, Affordability, and Decarbonization. Our nominations deadline is Wednesday, August 16, 2023, by 5:00 p.m. ET.
If you would like to submit a nomination for either your organization or another,
please click here to do so online
.
Click here
to review the guidelines to assist you in completing your nomination. Please contact Director of Stakeholder Relations Lesley Fore at
lcfore@ase.org
with any questions. We look forward to receiving a wide range of applicants and wish you the best of luck!
*Supply refers to projects and technologies that achieve efficiencies in the operation of the electric transmission network, electric distribution network, or gas distribution network.
Our nominations deadline is Wednesday, August 16, 2023, by 5:00 p.m. ET. Please see the nominations tab for guidelines and more information.
Event Details
19 September, 2023
7:00 PM
International Spy Museum
---
Share This Event