2023 ESG Predictions with ALLY Energy & Gibson Dunn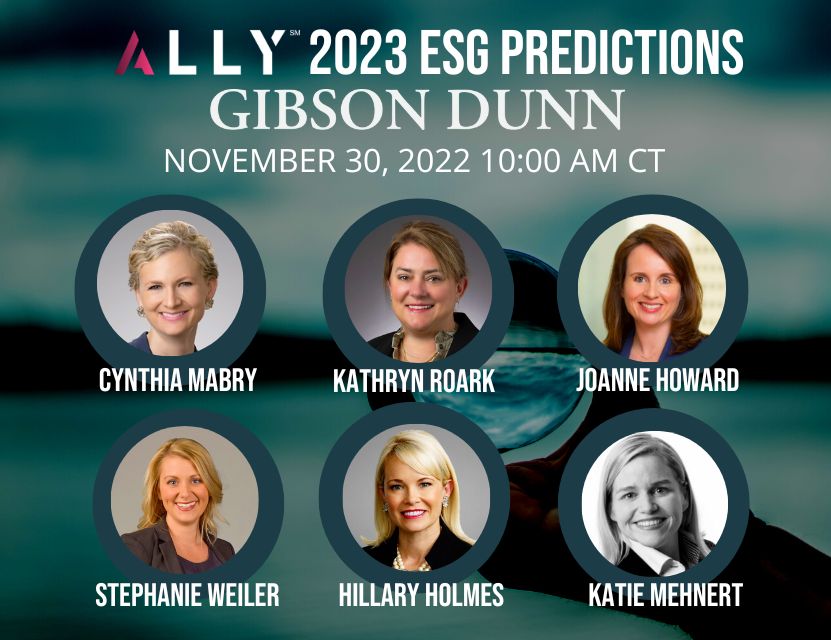 Join us as we look to 2023 and the predictions we have for the impact ESG will have on the energy industry. We will be joined by Sustainability and Legal experts.
Our speakers include:
Joanne Howard is senior vice president of ESG and corporate communications for Crestwood Equity Partners LP. She is responsible for managing and advancing ESG practices at Crestwood and integrating ESG into strategic planning and operations, as well as identifying and managing current and future ESG risks and opportunities. Joanne manages external reporting of Crestwood's programs and performance, including the publication of Crestwood's annual sustainability report. She also manages Crestwood's community investment program ensuring investments achieve the greatest societal and business benefit. Prior to joining Crestwood in 2018, Howard was the director of sustainability at Spectra Energy for six years before overseeing the combining of sustainability programs with Enbridge as part of the merger in 2017. Before that she was the vice-consul for energy and environment at UK Trade & Investment located at the British Consulate-General in Houston. Here, Joanne worked extensively on a range of sustainability and energy policy issues including energy security, renewables and climate policy. Joanne holds a Master's in International Relations from the University of Bristol and a Bachelor of Science in Politics with International Relations from the University of Wales- Swansea. She currently serves on the board of the British American Foundation of Texas, ONE Future, the Awty International School Alumni Association and is on the advisory board of the Barbara Bush Houston Literacy Foundation and Young Women's College Preparatory Academy.
Kathryn Roark is Vice President of Diversity & ESG at Patterson-UTI. Kathryn joined Patterson-UTI in April 2015 as the Vice President of Diversity and Compliance and expanded her role to include ESG-related responsibilities in April 2021. Prior to joining Patterson-UTI, Kathryn was Sr. Labor and Employment Counsel at Baker Hughes. Kathryn began her legal career at the Bracewell law firm in Houston, Texas. Kathryn graduated with a B.A. in History and Spanish from the University of North Carolina at Chapel Hill and obtained her J.D from the University of Houston. Kathryn is married with two kids and is an avid North Carolina basketball and Houston Astros fan.
Stephanie Weiler is a Senior Director with Alvarez & Marsal's Environmental, Social, and Governance (ESG) Services practice, where she specializes in ESG analysis, strategy, integration, and communication. Ms. Weiler has more than 14 years of corporate experience across ESG, investor relations, and corporate communications in the energy sector and brings extensive expertise in ESG disclosure, frameworks and rating services, performance metrics, report development, investor positioning, and stakeholder engagement. She has consulted clients across various industries to drive effective and practical ESG solutions and meaningful rating improvements. Prior to joining A&M, Ms. Weiler spent nine years with Peabody – a leading coal producer – most recently as Director of ESG and Corporate Communications. During her time at Peabody, she led the strategic execution of sustainability initiatives within the investment community, achieving top ESG disclosure rankings among coal producers by Institutional Shareholder Services. Ms. Weiler also directed robust proxy engagement efforts to support widespread approval of say-on-pay proposals; drove alignment with broadly accepted global initiatives; and engaged with international bodies to mitigate the impacts of the fossil fuel divestment. She was also responsible for reintroducing Peabody to the investment community following the company's Chapter 11 process and served as a key cog in financial communications activities related to a $2 billion emergence bank and bond transaction that was more than five times oversubscribed. Ms. Weiler also held various roles in communications for Ameren Corporation, a Fortune 500 company. Ms. Weiler earned a bachelor's degree in mass communications, a bachelor's degree in English language and literature, and an MBA from Southern Illinois University Edwardsville. She serves as a senior board member of A&M's Women's Leadership Connection, a firmwide employee resource group focused on the development of women leaders. Ms. Weiler is also a guest instructor on crisis communications, investor relations, and ESG for the Olin Business School at Washington University in St. Louis
Cynthia Mabry is a partner in the Houston office of Gibson, Dunn & Crutcher. Ms. Mabry concentrates her practice on capital markets, securities, mergers and acquisitions (M&A), and general corporate matters. She represents public and private entities, investors and underwriters in capital markets and finance transactions, including offerings of equity and debt securities. Ms. Mabry also provides counsel on joint ventures, corporate governance and compliance matters. She is particularly experienced with clients engaged in the energy industry, including utilities, oil and gas exploration and production, midstream, oilfield services and other related sectors. Ms. Mabry advises clients on governance structures and rapidly evolving legal issues related to climate change and environmental, social and corporate governance (ESG). She frequently writes and speaks about matters of climate change and ESG. Prior to practicing law, Ms. Mabry worked as a senior associate at PricewaterhouseCoopers in Houston.
Hillary H. Holmes is a partner in the Houston office of global law firm Gibson, Dunn & Crutcher and Co-Chair of the firm's Capital Markets practice group. Ms. Holmes has led some of the most exciting transactions in the oil and gas industry over the last 20 years. She advises corporations, investment banks, and private equity firms on strategic capital raising, securities laws, corporate governance and ESG issues. She also counsels boards of directors and financial advisors in M&A transactions and complex situations. She has been named one of the 25 Most Influential Women in Energy, the Most Effective Dealmaker by Texas Lawyer, Energy MVP by Law 360, and a Woman Who Means Business by HBJ, among others. Ms. Holmes regularly writes and speaks on topics relating to the U.S. capital markets, ESG issues, and the state of the energy industry. She serves on the Editorial Board of Insights: Securities Regulation, on the Advisory Board of the Institute for Energy Law, as a Co-Editor of the Securities Regulation and Corporate Governance Monitor, and as host of ALLY Energy's Exploring ESG in Energy series. She is currently serving as President of the Society for Corporate Governance Houston Chapter and on the Executive Council of the KBH Energy Center for Law, Business, and Policy at the University of Texas.
Event Details
30 November, 2022
10:00 AM
Online
Partner Event
---
Share This Event