Speaker Reveal - Moving the Needle Towards Combating Climate Change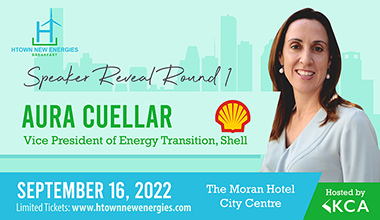 Your Safety is #1 to Us |Your safety and well-being at the HTOWN NEW ENERGIES BREAKFAST are our biggest priority. We're taking all of the necessary steps to keep you safe and healthy.
There's never been a better time to align, work together and take on partnerships. No plan will work as a silo, we all must do our part. At K Carpenter Associates, we understand the importance of change and transition. That is why we are proud to reveal the new name of our thought leadership event (the platform for sharing energy insights), the Houston Energy Breakfast will now be called, H-Town's New Energies Breakfast. This name change reflects our ambition to play a key role in driving the global energy transition.
The future of H-Town's New Energies Breakfast will still include all the things our attendees have grown to love. Our format won't change:
Our speakers will still take the podium to share insights that are posed to capitalize on the Energy Transition.
Our attendees will still enjoy networking (pre/post) event.
Hot coffee & breakfast still served.
IF YOU ARE IN THE ENERGIES INDUSTRY - THIS EVENT IS FOR YOU | No matter your level of experience from CEO to Young Professional: Engineering, Project Management, Research, Marketing, Systems, Automations, Operations, Procurement, Construction, Installation, Maintenance, Design, Security & Digital.
Event Details
16 September, 2022
8:00 AM CDT
In Person
---
Share This Event