In this episode of the Voices of Energy, Katie welcomes guest, Dr. Emily Reichert, CEO of Greentown Labs, the largest incubator for climate focused startups in North America, and getting ready to launch their second location in Houston, Texas. Katie opens with a rapid fire round of questions for Emily where she shares about her night-owl tendencies, love for Greenland, and her new Covid hobby - cycling.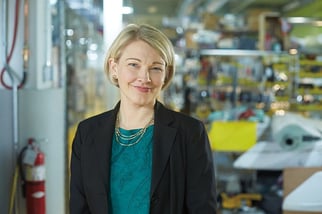 The path to climate-tech (04:57)
The conversation gets rolling as Katie asks Emily how she realized the field of science, and specifically, sustainability, was the one she wanted to be in. She shares about her dad's influence in her life and career decisions. she then talks about her time in pre-med, and how a female chemistry professor mentored her. Moving towards Greentown Labs, Emily shares about how she found out about this startup. She speaks to the catalyzing force that motivated her towards this community of entrepreneurs—finding out how they work to feed off each other in a positive way, and the potential she saw for a group of such like-minded and sustainability oriented start-ups.
A climate-focused business model (14:31)
Katie asks Emily to share more about Greentown and their model. Find out about the criteria they look for in bringing in new startups and how they are supporting these entrepreneurs. She discusses the types of companies they support and their vision of joining a community of entrepreneurs to help support each other. Learn more about climate resilience, community engagement, stage fit, technical checks for market, and conflicting interests.
Does Texas have what it takes to lead the energy transition? (21:17)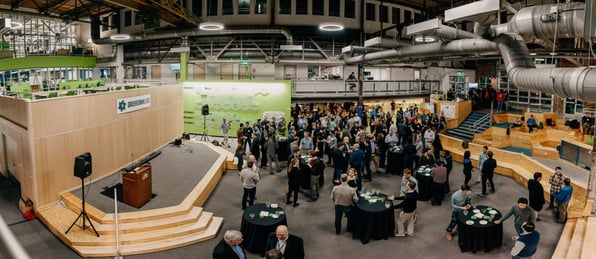 What about the second location in Houston, Texas? Katie squires whether Emily really thinks Texas has the ability to lead the energy transition. They each speak to the vast difference between the reality on the ground verses the popular things for the media to say about the status of energy in Texas. Emily shares her journey in choosing Houston and the moment she jumped on board. We cannot fight climate change from the coast—what better place than in the energy capital of the world? Emily believes that If the energy transition is going to happen, it needs to happen in Houston. They do not just have oil and gas, but they are the renewable energy capital of the world too.
Climate vs. Clean and the road to decarbonization (31:27)
The conversation shifts to a semantic debate as Katie asks Emily about her blog post concerning climate tech verses clean tech. Katie asks why people are so sensitive to the term "clean-tech" and how the two words differ in approach and context. Emily shares that she doesn't think the terminology needs to be so important, but how, to many, "clean-tech" carries with it a lot of unnecessary baggage. Emily then shares about where we might see rapid change in the next decade for decarbonization technology, along with the importance of energy storage development.
Passion, mentors, and next gen advice (37:21)
The episode comes to a close as Katie asks Emily some final questions about her "why" in life, role models, and any advice she has to give. Emily says that for her, it is all about impact—since we all only have a few years on earth, she wants to try and have a meaningful impact with the time she has. Emily shares more about her college Organic Chemistry professor and how she served as a female role model and mentor for her, making a huge impact on her life. Finally, she shares advice for those looking to engage in the climate fight in the coming years. Emily sees the energy transition as being a technical, people, business, and political problem, so really any background can come to this work. She seeks to harness the impatience and hunger for impact that this generation has!